Hot selling Natural Vincamine Extract Vinpocetine 99%
Description:
Vinpocetine powder is a derivative of Vincamine. It facilitates cerebral metabolism by improving blood flow to the brain, boosting brain cell ATP production, and increasing utilization of glucose and oxygen by neurons.
Vinpocetine enhances brain metabolism. Obtained from tabersonine, which in turn is an alkaloid extracted from Voacanga seeds, Vinpocetine works by increasing the synthesis of ATP in the brain and by increasing the utilization of oxygen. Vinpocetine also enhances the synthesis of some neurotransmitters that influence critical brain functions such as mood, focus, and memory recall.

Molecular formula:C21H27N2O3
Molecular weight:355.4501
Assay: 99% (HPLC)
CAS:1617-90-9
EINECS NO.:216-576-3
Melting point:232℃ (dec.)
Boiling point:232(dec.)
Density:232℃ (dec.)
Flash point:261.566°C
Appearance: White crystalline powder

Main functions:
1. It has vasodilating, blood thinning, and memory-enhancing actions.
2. It acts as a cerebral stimulant and vasodilator.
3. It is used to treat arteriosclerosis.
4. It is very effective in curing dementia caused due to insufficient blood supply to the brain.
5. It interferes with cells' ability to synthesize DNA and RNA.
Application:
1. Increases blood flow.
2. Increases the rate at which brain cells produce ATP (which is a cell molecule that creates energy).
3. Speeds up the use of glucose in the brain. Regulates Sodium/ Potassium channels
4. Speeds up the use of oxygen in the brain.
5. Vinpocetine increases levels of neurotransmitters involved in memory.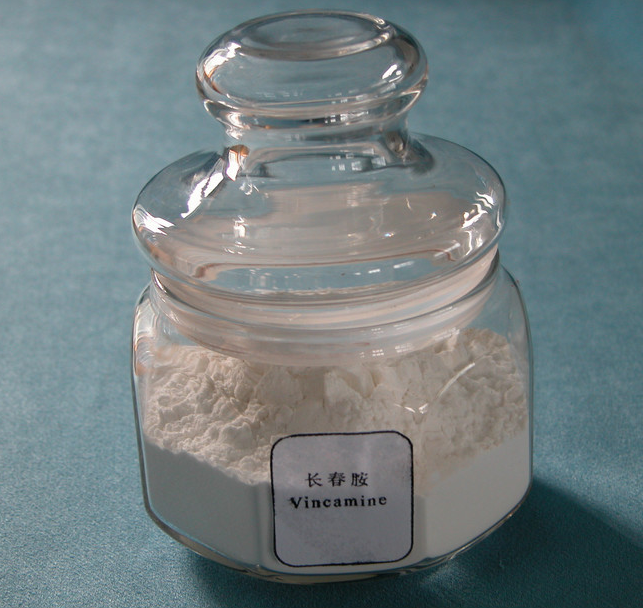 Packing: 1kg/bag or 25kg/ Fibre drum
Specification:

| | |
| --- | --- |
| Assay | ≥99.5% |
| Melting point | 232 °C |
| Specific optical rotation | 42.8 º (c=1 in pyridine) |
| | |
Группа Продуктов : Витамины И Фармацевтической > Винкамин